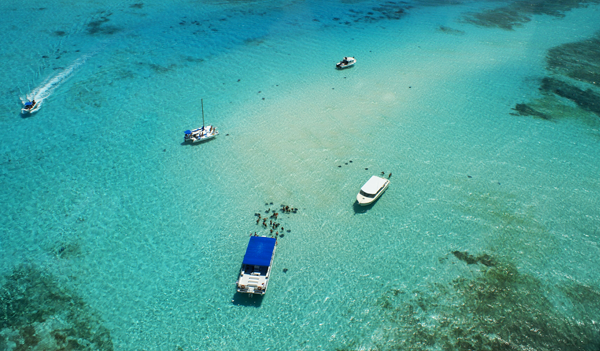 WELCOME BACK!
Canadians can now turn their dreams of The Cayman Islands into reality as Air Canada and WestJet announced they will re-introduce 4-hour non-stop service from Toronto to Grand Cayman, with easy connections across Canada. Air Canada Rouge begins non-stop service as of December 4, 2021, with WestJet returning on December 16, 2021 allowing even more Canadians to enjoy the distinct virtues of Grand Cayman, Cayman Brac and Little Cayman, which will welcome fully vaccinated international leisure guests without quarantine as of November 20, 2021.

NEWS FROM OUR HOTELS & RESORTS
THE RITZ-CARLTON OPENS AFTER EXTENSIVE RENOVATION

Sun-filled days and memorable moments await at this Caribbean safe haven with unique experiences inspired by the islands' heritage, diversity and cultural richness. After a grand beautification project in 2021, the iconic resort transforms into a haven of modern luxury through reimagined spaces that blend modern coastal elegance and mid-century British Caribbean style. Profound experiences await to create cherished memories with loved ones at the Cayman Islands' only Forbes Five-Star Hotel.

WESTIN GRAND CAYMAN UNVEILS ENHANCED DINING VENUES

Situated on one of the most enviable locations along Seven Mile Beach, The Westin Grand Cayman Seven Mile Beach Resort & Spa has recently introduced a variety of new dining experiences. From fresh seafood and more at AAA Four Diamond and Wine Spectator's award-winning restaurant, Beach House to the brand new Woto, offering all-day dining with an island-inspired menu featuring chef-delivered sushi, ceviche, & poke you can't go wrong at the resort's six exceptional choices. Dine in or al fresco – you won't be disappointed.
HAMPTON BY HILTON GRAND CAYMAN ARRIVES

Just steps from the pristine sands of Seven Miles Beach and a short walk from shopping and dining at Camana Bay, Hampton by Hilton Grand Cayman is a new addition to Grand Cayman. The watersports concierge can arrange snorkeling and boat excursions to Stingray City, and there's a shuttle to nearby beach parks, bars, and clubs. Chill out at the tropical garden pool featuring Ms. Piper's al fresco restaurant and lounge.

HOLIDAY INN RESORT GRAND CAYMAN UNVEILS NEW LOBBY AND BAR

The Holiday Inn is the only Grand Cayman resort situated on the North Sound, providing the most amazing sunrise views from the sea-side pool and waterfront. With a newly updated lobby and outdoor Driftwood Bar, guests can also enjoy a complimentary shuttle to dine, sightsee or enjoy nearby Camana Bay, Fosters Food Fair, Seven Mile Beach (5 minutes away) and George Town.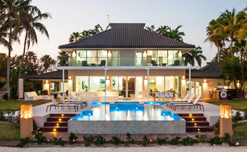 BLACK URCHIN – NEW LUXURY BOUTIQUE
Nestled on a 2.5 acre property that boasts its own private beach, Black Urchin is for the design-forward traveller seeking a private and customizable luxury vacation. Choose from Private Residences or four-bedroom Suites, each boasting chic accommodations featuring stunning views, beach front pools, access to a world-class chef, and an experience that can only be described as tailor-made. Black Urchin is Grand Cayman's best kept secret.

NEW AND NOTEWORTHY CULINARY EXPERIENCES
MS. PIPER'S KITCHEN + GARDEN

Set in the backyard within the heart of Seven Mile Beach, Ms. Piper's cottage is a collection of keepsakes of her travels, inspiring our dishes, cocktails, décor, music and thoughtful details. The quaint garden restaurant serves up a fresh menu of delectable treats – for lunch and dinner. Don't forget to taste the homemade ice cream after a glorious sun-soaked day.

UNION GRILL & BAR

Union Grill & Bar is the new go-to gastro destination for foodies, romantics and families. Pull up a leather-tufted stool at the marble bar for cocktails and bar snacks, or settle into a comfy chair in the dining room for buttery-soft steaks, fresh fish, delicious salads, vegan and vegetarian options. Open for lunch and dinner everyday (except Sunday evening). Insider tip: check out the shaded outside dining patio with breezy waterfront vistas.
AREPA 345

Born from a love of traditional Venezuelan Arepas, the welcoming couple that relocated to the Cayman Islands a few years ago has created a special culinary offering with clean ingredients (masa, salt and water). What sets them apart is their tantalizing fillings and sauces – an array of traditional and locally loved treats.

TOMFOODERY KITCHEN & BAR

Celebrated Chef Thomas Tennant's new fast-casual outlet is located along the Paseo in Camana Bay. With a local"ish" menu dedicated to fresh, casual dining, Tomfoodery celebrates Chef Tennant's two decades working at some of the best kitchens in Cayman, Miami and the Caribbean.

© Copyright 2021 Cayman Islands Department of Tourism | Privacy Policy
Cayman Islands Department Of Tourism,
c/o Data Protection Compliance Manager PO Box 134,
Grand Cayman KY1-9000, Cayman Islands
672 Dupont Street, Suite 401, Toronto, ON M6G 1Z6 tel:416 968-7252 email:circ@baxter.net (product inquiries) www.travelpress.com
This TravelBlast® contains information that has been created by a variety of sources external to Baxter Media and is sending this message on behalf of the company named above. Although every reasonable effort is made by both Baxter Media and its clients, to present current and accurate information, Baxter Media cannot guarantee the degree of accuracy of the content provided in this e-blast.
Update Profile & Subscriptions
Why am I getting this? Baxter
Media is Canada's largest and most authoritative source of news and information for the travel and tourism industry. This email was sent as you have subscribed to our TravelBlasts® notifications at travelpress.com. TravelBlasts® notifications are intended for travel professionals keeping you informed about the latest fams & travel promotions available. If you would like to stop receiving TravelBlasts®, you can update your profile or unsubscribe here to be removed from this list.